Getting good clean regrind back into the process is necessary for profitability, but painful to do. Old style units beside the press granulators are loud, make fines and "longs" that effect part quality and material transfer, and are energy inefficient. What they do well is take a large slug of runners or parts and are built to take a beating.
The new low speed units make clean regrind, are quiet, and very energy efficient, however they should be paired with a sprue picker or robot to efficiently feed them because they are not as good at eating a slug of runners and parts as the old style units. Utilizing a complete package of a sprue picker, low speed granulator, and blender or proportioning loader will pay back in higher quality regrind and better utilization of your regrind so it doesn't accumulate in your material inventories.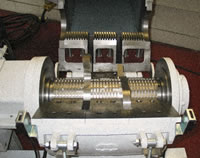 Partner Case Study
Sumitomo Demag
Our manufacturing partner, Sumitomo Demag has a broad selection of Injection Processing equipment available to plastics processors looking for the right solution to their manufacturing requirements.
Sumitomo Demag has all electric machines from7 ton capacity to 900 ton capacity with injection sizes ranging from 0.7 oz. to 62 oz. These machines have the highest performance capability on the market.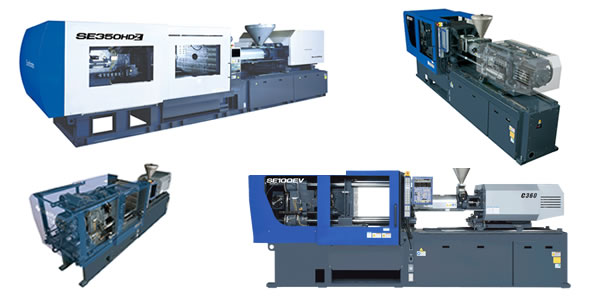 Our Demag group manufactures energy efficient hybrid hydraulic machines from 39 US tons to 2,250 US tons with injection unit sizes to 348 oz. and options for combinations of electric and hydraulic actuation of the axes for applications that require the benefits of each technology.
Sumitomo Demag builds machines worldwide for the best combinations of price and performance. North Amercian customers can take advantage of all the technology Sumitomo Demag has to offer from our Norcross Georgia, and Cleveland Ohio operations which provides engineering, training, service and a multimillion dollar parts inventory.